Connector Adaptor MYOB EXO (version 8.3-8.5)
The Connector's MYOB EXO adaptor supports connecting to the EXO Business Enterprise Resource Planning (ERP) system, which is developed by MYOB Technology Pty Ltd. The adaptor supports obtaining data from the system for versions 8.3 to 8.6.
Please make sure you have read through the Get Started/Overview before continuing down this document.
Also make sure you understand the concepts of:
Links
Overview of Data Connectivity
The adaptor utilises the native Microsoft's ADO.NET (ActiveX Data Objects) to connect and obtain data from a Microsoft SQL Server that holds the database of an EXO system. Additionally it uses the same mechanism to write data back into EXO's database.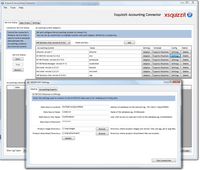 Connector application displaying the MYOB EXO general settings window
To created a new MYOB Exo adaptor follow these steps:
Open the Connector application by clicking on its icon in the desktop or within the Windows start menu.
Within the application, under the Adaptors and Messages tab in the Adaptors panel, in the drop down select the option MYOB EXO version 8.3-8.6.
In the Key field give the adaptor a unique value that no other adaptors have set.
Click the Add button to create the adaptor. A row will be added to the adaptors the table below the button.
Once the adaptor has been created:
click on the Adaptor button against the new adaptor row to configure to how the adaptor connects with the Xsquizzit TOTECS Ecommerce platform.
Click the Exports/Routines button, to schedule when data exports and routines are run for the adaptor.
Click the Settings button to configure how the adaptor talks to the MYOB EXO system and obtains data.
Within the MYOB EXO adaptor's Settings window, under the Accounting Exports tab, you can configure how certain types of data is exported out of EXO, these are known as Export Types. Below is a table that describes the the export types that can be configured.
| Export Type | Description |
| --- | --- |
| Categories | Obtains category data from EXO using stock groups. The export supports the 2 tier tree structure of stock groups. This data is joined with the Category Product export data when the adaptor's linked Ecommerce system requests to get all category data. |
| Category Products | Obtains the categories that each stock product is assigned to in EXO, based on the stock group that the product is assigned to. This data is joined with the Categories export data when the adaptor's linked Ecommerce system requests to get all category data. |
| Price Levels | Obtains the price level data from EXO. |
| Product Attachments | Finds and pushes product attachment files up to the Ecommerce system, based on files in a specified directory, each containing the same file name and the product's item ID. |
| Product Flags | Obtains product flag data for each stock product in EXO, based a comma list of product flag IDs set against a specified user defined field. |
| Product Images | Finds and pushes product image files up to the Ecommerce system, based on files in a specified directory, each containing the same file name and the product's item ID. |
| Product Pricing | Obtains the price level pricing data set against stock products in EXO. |
| Product Stock Levels | Obtains only the stock level data against each stock product in EXO. |
| Products | Obtains the stock product data from EXO. |
| Sales Representatives | Obtains the salespersons data from EXO based on staff data. |
| Taxcodes | Obtains the taxcode data from EXO. |
| Customer Accounts | Obtains the debtor account data from EXO. |
| Customer Account Addresses | Obtains combined billing and delivery address data from EXO. |
| Customer Account Product Contracts | Obtains product contract data from EXO based on promotional and debtor account specific product pricing. |
| Warehouse Products | Obtains the product relationship and stock data associated with warehouses within EXO, based on stock location data. The data is joined with the Warehouses export data when the adaptor's linked Ecommerce system requests to get Warehouses and Product Stock. |
| Warehouses | Obtains the warehouse data within EXO, based on stock location data.The data is joined with the Warehouses Products export data when the adaptor's linked Ecommerce system requests to get Warehouses and Product Stock. |